This is the first review of A Bit Lost in English.
Its from The Bookseller. Very exciting to see a review in English, I still havent seen an actual copy of the book yet myself as Im still in India! 'A Bit Lost' should be out properly in September.
The Bookseller- 18 June 2010 -Booksellers Choice
Chris Haughton's delightful picture book 'A Bit Lost' has a simlistic charm and natual voice which will be enjoyed by the youngest children. The traditional separation tale of a lost child finds wrong mummy- then eventually right mummy is lifted by unusual colours and quirky, humorous illustrations. The last page is a joy.
Publishers weekly- July 2010
By sticking to simple shapes and a bold palette, Haughton has created a debut that reads like a tattered old favorite. A single half-page shows Little Owl dozing off in his nest, then–once it's turned–bouncing softly to the forest floor. The animals who find Little Owl are flat, stylized creatures in jewel colors, but their eyes convey a wealth of feeling. Squirrel peers at Little Owl, his paws clasped in concern, his neck stretched out quizzically. "My mommy is VERY BIG," says Little Owl. "Yes! Yes! I know! I know!" says Squirrel. "Follow me…. Here she is. Here's your mommy." Squirrel points to an enormous teal bear, staring befuddled at readers. A few more cases of mistaken identity ensue before locating Little Owl's mother (careful readers will have noticed her seeking out her progeny). With instinctive skill, Haughton uses spreads of the forest to establish atmosphere and set up jokes, then delivers punch lines with spot illustrations that zero in on the animals' dopey but lovable expressions. A promising first outing. Ages 2–up.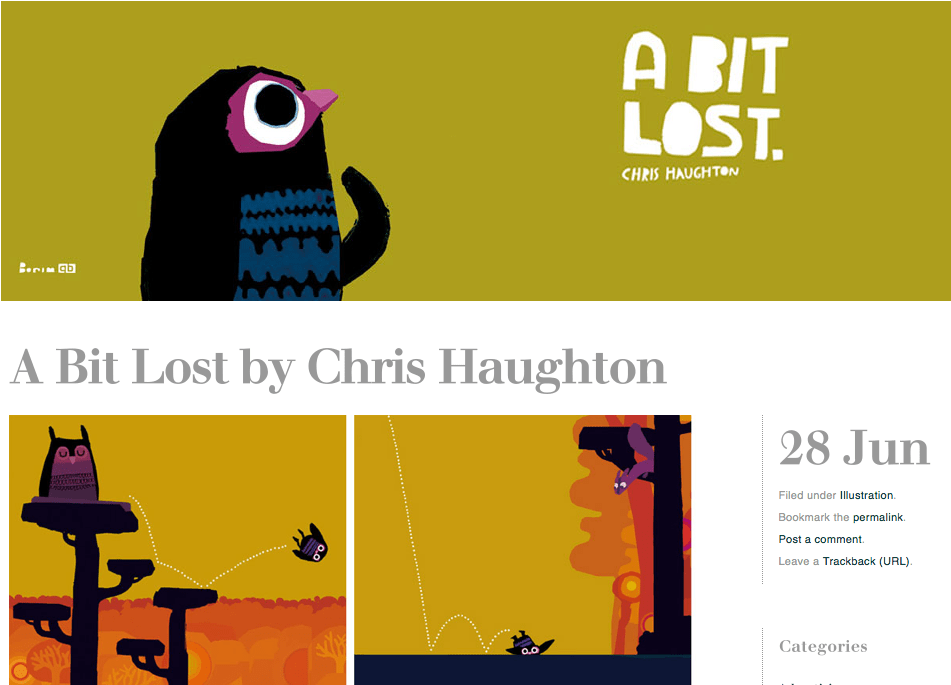 I also got a nice post from the very nice handdrawnpixels.com 
A Bit Lost is available in UK/IRE     >>> here
LIttle Owl Lost in the USA               >>> here
Ihan Hukassa in Finland (Suomi)    >>> here