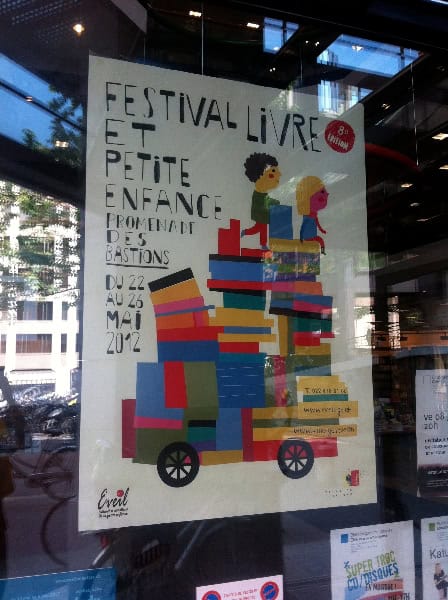 A Bit Lost (Un Peu Perdu) has just won the Prix P'tits Mômes in Geneva! As part of the prize i was invited to come to Geneva and to give a presentation to children at the Pomenade des Bastions. There were really lovely events organised by the city of Geneva for very young children and it was a huge honour to have been part of it.Everything there was just beautifully put together, the poster for the festival was designed by one of my favourite picture book artists Madelena Matosa (Planeta Tangerina), a stunning exhibition for children at the main city library by Haydé and there were events including beautiful readings by all the nominated books by professional performers. even the programme is beautiful, take a look here
The 4 other nominated books are here, one of the other books, Cours! was from the same publisher as mine, Borim press in Korea. In fact my book was very lucky to have got onto the shortlist, it only made it because another publisher had to drop out but then the final four were were voted on by the children in a little ballot box all the libraries, so its a special honour to have received it from the children themselves.
There is an article about the prize here
Thank you to everyone who showed me around Geneva for the 2 days especially to Olivia, Damien and Davide. An amazing two days. Merci!