WOW! I just got sent this recipe from Zoe who runs the excellent Playing by the Book blog. Doesn't the cake just look amazing? She very kindly sent me the recipe below. I recommend following her great blog, it was voted the UK's number one parenting blog in 2011.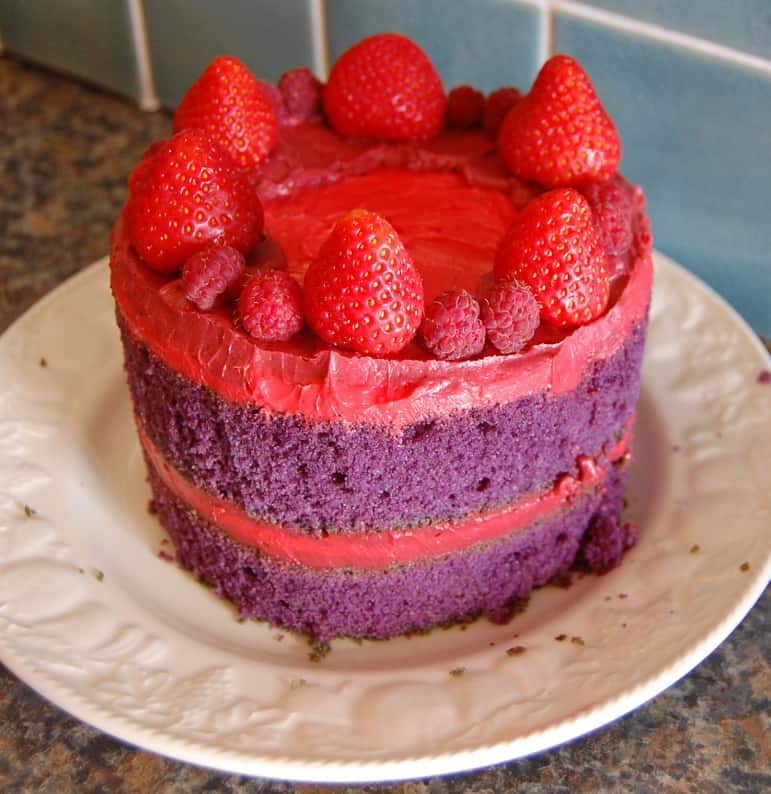 RECIPE
Cake
225g butter (best if soft, or cut into small cubes)
225g caster sugar
225g self-rasing flour
4 eggs
2 teaspoons baking powder
finely grated rind of 1 orange
about 1 teaspoon purple food colouring (I highly recommend paste food colouring likethis as it give a really intense colour that you don't often get with liquid food colouring)Filling
50g butter
50g icing sugar
finely grated rind of half an orange
red and/or orange food colouring
ORabout 4 tablespoons of orange marmaladeOR
about 4 tablespoons raspberry jam
Topping
50g butter
50g icing sugar
finely grated rind of half an orange
red and/or orange food colouring
raspberries and/or strawberries
1. Preheat the oven to 180C. Grease and line 2 x 20cm sandwich tins with grease proofpaper.
2. Put all cake ingredients in a blender and mix together (alternatively put them in a bowl and beat well).
3. Divide purple mixture evenly between the tins and bake in pre-heated oven for about 25 minutes (you can test that they are done by inserting a skewer. If the skewer comes out clean, the cakes are ready).
4. Leave cakes to cool completely, remove from tins and peel off greaseproof paper. The outside edges of the purple cake may (somewhat bizarrely) turn green in baking – if this happens just slice off a surface layer to reveal the rich purple sponge underneath.
5. Unless you are using jam/marmalade, the filling and topping are made the same way – by putting everything (except the soft fruit) in a blender until well mixed and soft. I made one batch of orange filling/topping and one batch of red filling/topping and used some of each in both the middle and on the top of the cake.
6. When the cakes are completely cool, sandwich them together with the filling of your choice, spread the topping over the top, and decorate with the soft fruit.
7. Grab your copy of Oh No, George!, read it with friends and share the cake!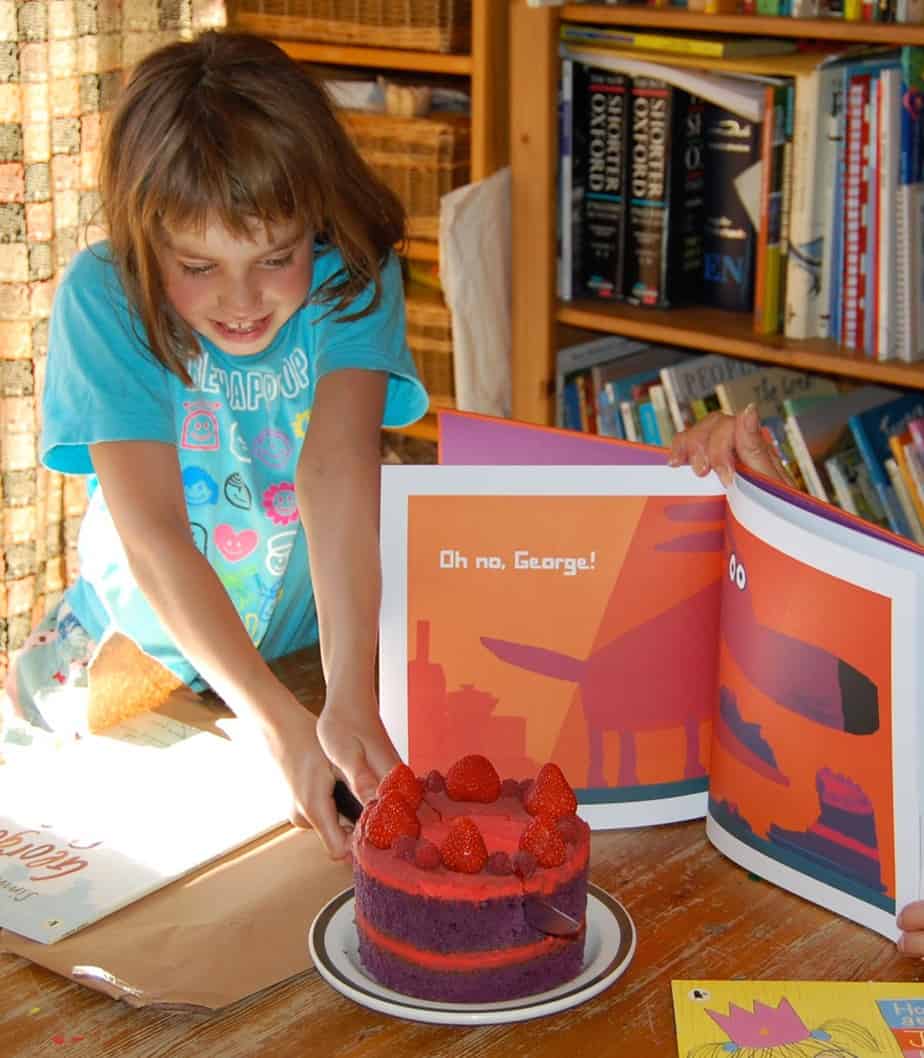 thanks so much Zoe! i will have to try this myself !!
for other George and owl related things to do click the 'activities'  tab to the right. lots of ideas for a rainy day