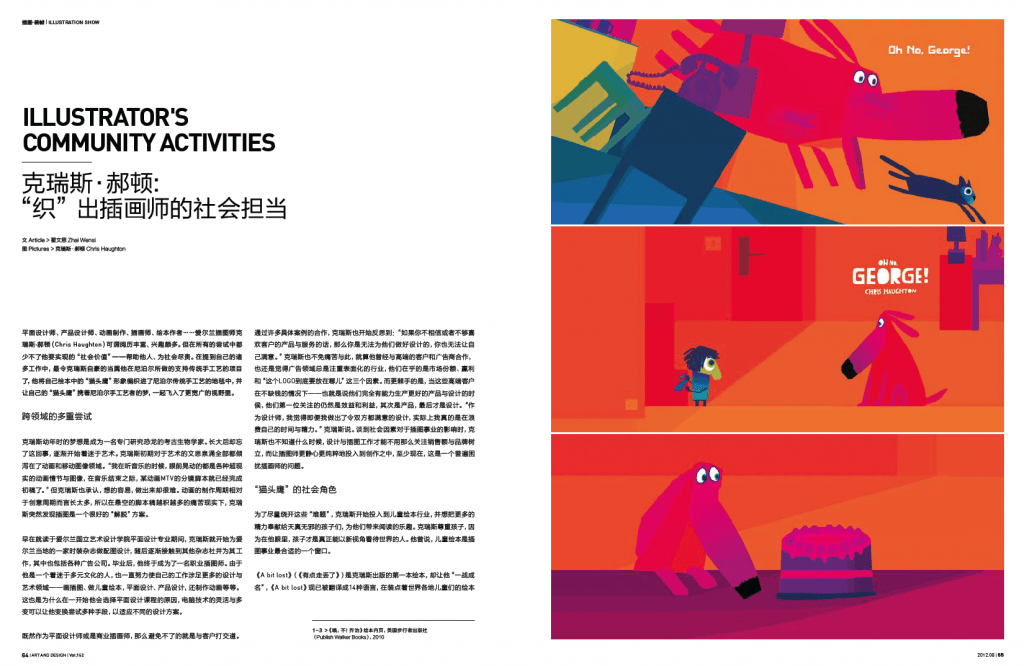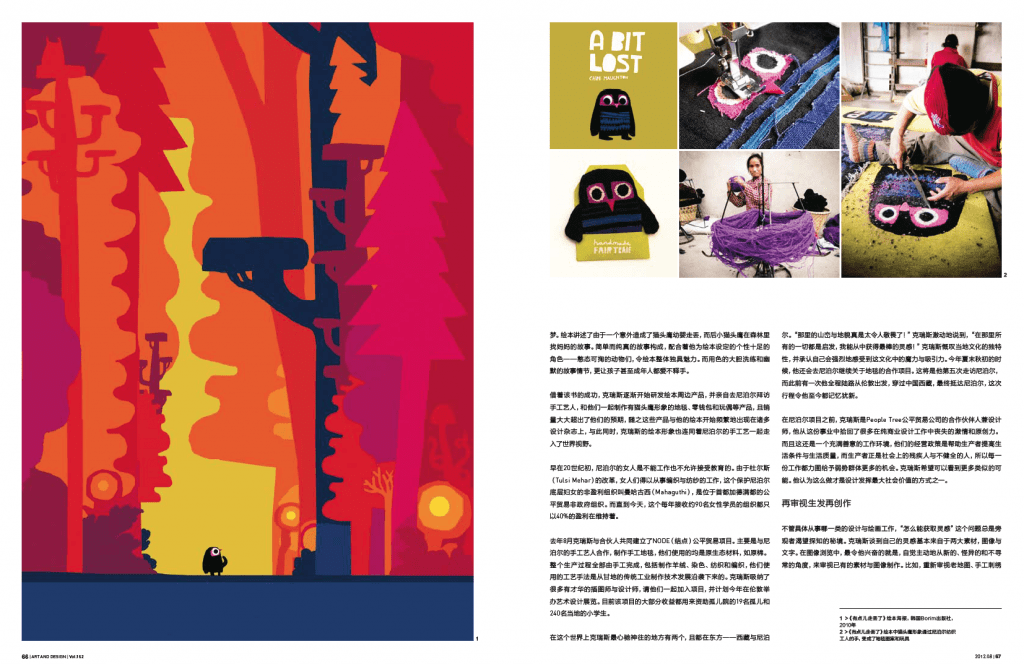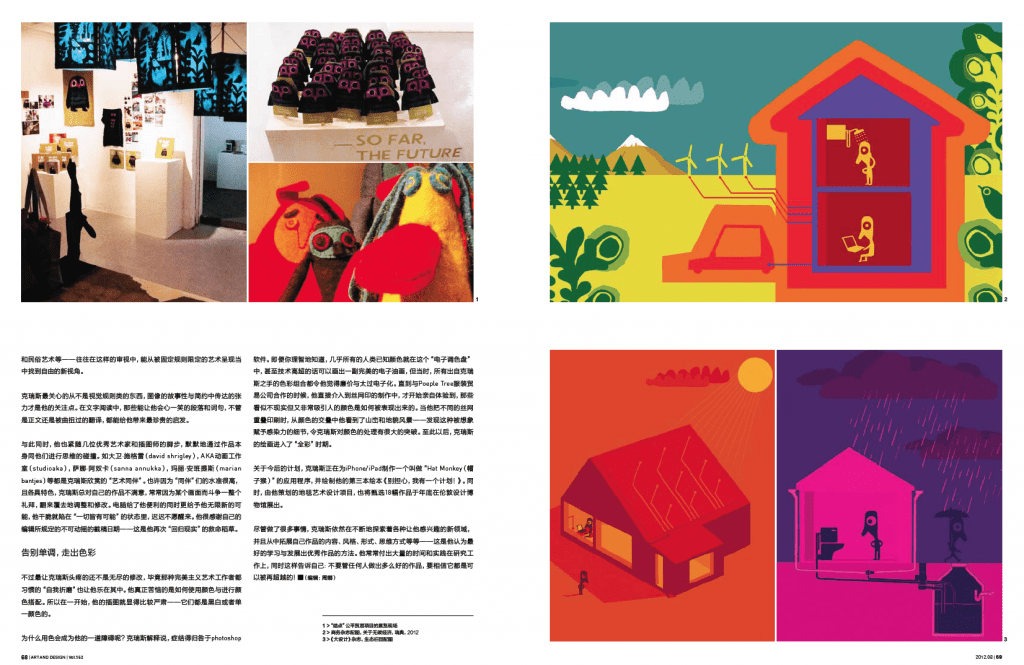 What was your dream when you were young, and Was it changed ever?
What kind of influences you had in your illustration from your dream(s)?
when i was very young i had wanted to be a archaeologist/paleontologist (!) i liked dinosaurs.
when i grew older i got more into art although i never thought i could make money from it. When i started out i had lots of ideas for animations and moving graphics. when i listen to music i often imagine the visuals i would like to make for it. the problem is it takes so long to realise animation. illustration is easier than animation in practice.
Which city/ place do you like best? Which place are you planing to visit next?
My two favourite countries i think are Nepal and Tibet. The mountains and landscape are really awe inspiring and there is something really magic from the culture there. In fact i am going back to Nepal in August/September to do some work on my rugs. It will be my 5th visit there! I went once overland from London through China and Tibet to Nepal.
I also like China, i lived in Hong Kong for one year and visited a lot. i really loved the dynamism of shanghai and the villages in the far west.I have been living in London for the past eight years and i really like it here too. there is always a lot going on here.
When you were creating your new works every time, Where did you getthe greatest inspirations from? For instance, from family life,daydreams, love story or walking in a forest etc.
for visual inspiration what makes me excited is looking at unusual ways of representation and image making. things like old maps and folk art and embroideries, anything that ignores perspective and other rules in favour of narrative or simplicity is interesting to me.
for writing i am often inspired by funny sentences or words or mis-translations. that sort of thing. i used to write down odd things i found funny for no reason here and there in my sketchbooks, just odd sentences if i found them amusing. i had no real way of using them until i started writing picture books. now since i have discovered that i can make use of these in my books  i have begun doing it more, and with more purpose.
Is there a certain working pattern/routine to follow when you are making your illustrations? (it could be both spiritually or physically)Which part in your working process would be the most exciting one?
If i am given a brief i would think about it and maybe sleep on it and wait for something to inspire me. sometimes i would come up with something in the first 20 mins or so or sometimes it would take a day or so.. sometimes i start out with one idea and it evolves into another. it all depends really. you need to be flexible in order to try and harness any better ideas you might stumble upon while executing it.
come up with the ideas are usually the most exciting but i also like finishing off and tweaking an illustration if its one i really like. its nice to really polish something if you are proud of it.
What is the biggest achievement you had experienced in your illustration career?
The success of my first book is probably my biggest achievement. it has been translated into 14 languages, though not in chinese. i just cant believe it's gone so far! Im also very proud to have been listed in Time Magazine's 'Design 100' a few years ago for the work i have been doing in fair trade.
Do you have a believe/spirit in art /design /illustration field?  Where does it guide you to go? 
i think design has a potential for great things. it can make our world and communication clearer and more beautiful. it can help communicate things that are unable to be communicated by language. sadly, perhaps because of its power in communication, it really has been totally hi-jacked by advertising and corporate communication. the word 'design' has kind of become synonymous with branding. i would love to counter that.
What are you good at in the ways of making illustrations? Tell something about your own special features, that are different with any other illustrators. 
well i dont know if its a curse or a blessing but im known for endlessly fiddling and tweaking things until i'm more happy with them. people i have lived with watch me with incredulity about how i spend weeks on one image. pushing something around the page endlessly. the problem with the computer is you can always change the image so nothing i do is every totally finished until it is wrestled from me by my editors.
What is the biggest difficulty in your work? How did you / will you pass over it?
i had a big problem with using colour. I actually was particularly bad at using colour when i started off… the images i produced were almost entirely black and white or 'duotone'. although i loved colour i couldnt incorporate it into my own illustrations somehow.. Every time i tried to colour my images they tended to look cheap and cartoony, i was doing this using the magic wand tool in photoshop and it just looked like a drawing that had been coloured in on the computer and looked pretty cheap. It was only when i started making artwork for people tree which is all screen-printed that i began experimenting with with unrealistic colours. i just layed a few sreenprints on top of each other and realised i could build up whole scenes and landscapes using this process that there was a breakthrough. in fact it was a really huge breakthrough for me… one minute i was using almost entirely duotone images and the next i was doing entirely full colour. to explain this image was made in this way. each element was made in 'duotone' but using different base colours. when they are placed together on one page they together make a colourful image then i later evolved that kind of image making into this..
As you also do a lot of design work(but seems you prefer to look for profound meanings via every new works), how do you balance the marketing value within your art works? Would you like to give some suggestion for young illustrators?
sorry im not sure i understand this question!
i guess you need to bring some of yourself or your enthusiasm to each brief. if you do something with genuine enthusiasm you can dig deeper and get excited about every project (even if there isnt much to be excited about from first glances) if you can do that you will make something interesting each time.
What is your plan in near future?
i am working on an app for the iphone/ipad called 'Hat Monkey' i am also working on my third book its called 'dont worry i have a plan!' and i am organising an exhibition of rugs each designed by a well known designer and illustrator. we are going to make 18 rugs and have them for a collection at the design museum in london.
Who is your favorite artists / illustrators? What makes you happy with them or their works?
i really enjoy the work of david shrigley, studioaka, sanna annukka, marian bantjes, jon klassen, daniel eatock, tom gauld, david o'reilly.all for different reasons shrigley and tom gauld for their humour, some for their design sense or simplicity.
What is the most touching/moving period of time or people in your life? What did you learn from it / him/ her? (If you don't feel like to answer it, then just pass it.)
i enjoyed visiting people tree in london and saw the work they were doing. they are a fair trade company and their policy is to create products that will benefit the lives of their producers. they work with disabled or disadvantaged workers in order to improve their condition. i thought that this was a great use for design and it made me passionate about the work of fair trade.
If possible, what policy you want to improve from the society or the government for having a nicer working environment and conditions, as an illustrator?
it would be nice if there was more illustration and design work that wasnt so focused on selling products and branding. but i dont know how that could be tackled.
As you have been doing that many years of art and design work, do you find out that does the the way of communicating between artist and audience change ever? What is the most helpful new medias nowadays?
i think illustration and visual culture has had a huge boost from the internet. writing requires time and concentration from its audience but images can be absorbed immediately. it seems to me for better or worse information is becoming more and more visual
Do you know something about China? and the illustration situation in China?
Yes i lived in Hong Kong for one year. i worked with Tommy Lee design on their VQ (vision quest) magazine project and made some work for WW magazine with Joey Chu. I also worked with Wing Shya (ShyLaLa studio) on an album cover for the musician Lo Tae Yo but sadly it didnt work out. i dont know too much about mainland chinese illustration and design but i am a big fan of Chinlun Lee and Jimmy Liao in Taiwan.
Now maybe close your eyes for 10 second with deep breath, what image is coming in front of your eyes?
all the emails i need to reply to!
ok…try again… i have warm sun on my face and looking at beautiful clouds. now i'm asleep… zzzzz