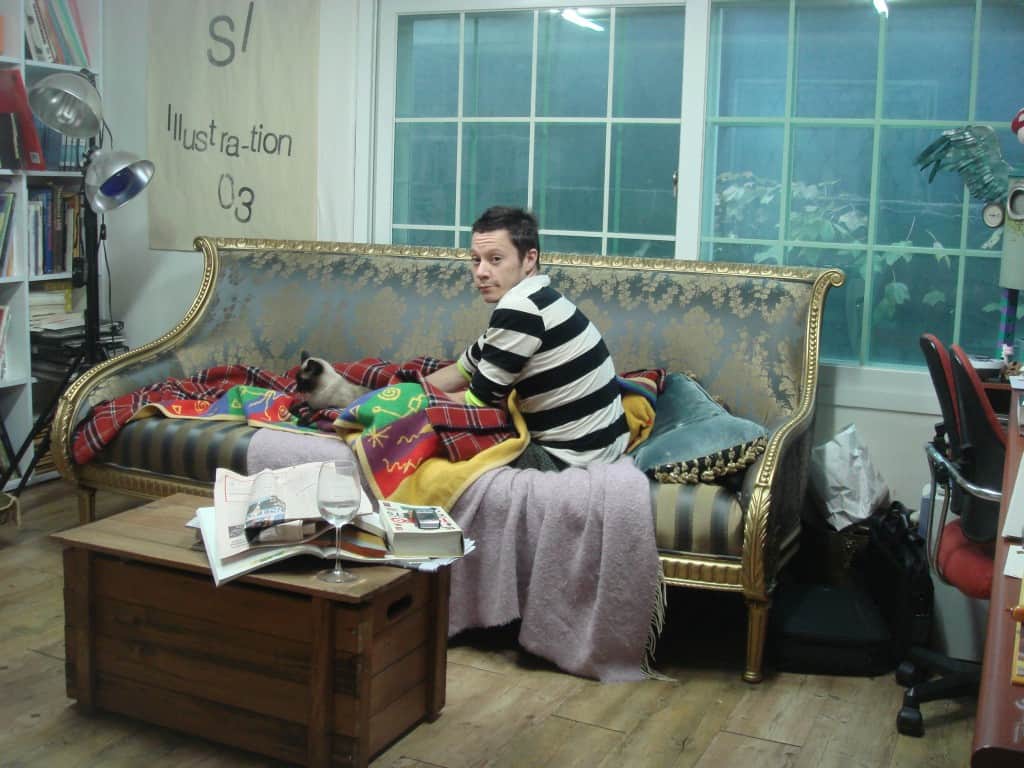 While i was making my book in Korea I was extremely fortunate to meet the picture book artist Cho Sunkyung. I was introduced to him through our publisher Borim press and ended up staying on his sofa for an incredible 5 and a half months. Fairly cheeky even by my standards!
Sunkyung is one of the most interesting people ive met and as it was his work that made me appreciate the craft of book-making i thought i should do a post about him. He is an incredible illustrator and artist. His very interesting career path includes working for the ny times amongst many others as well as designing film sets and several best-selling picturebooks. Underground garden has been translated into 6+ languages. Ive posted some of his work here….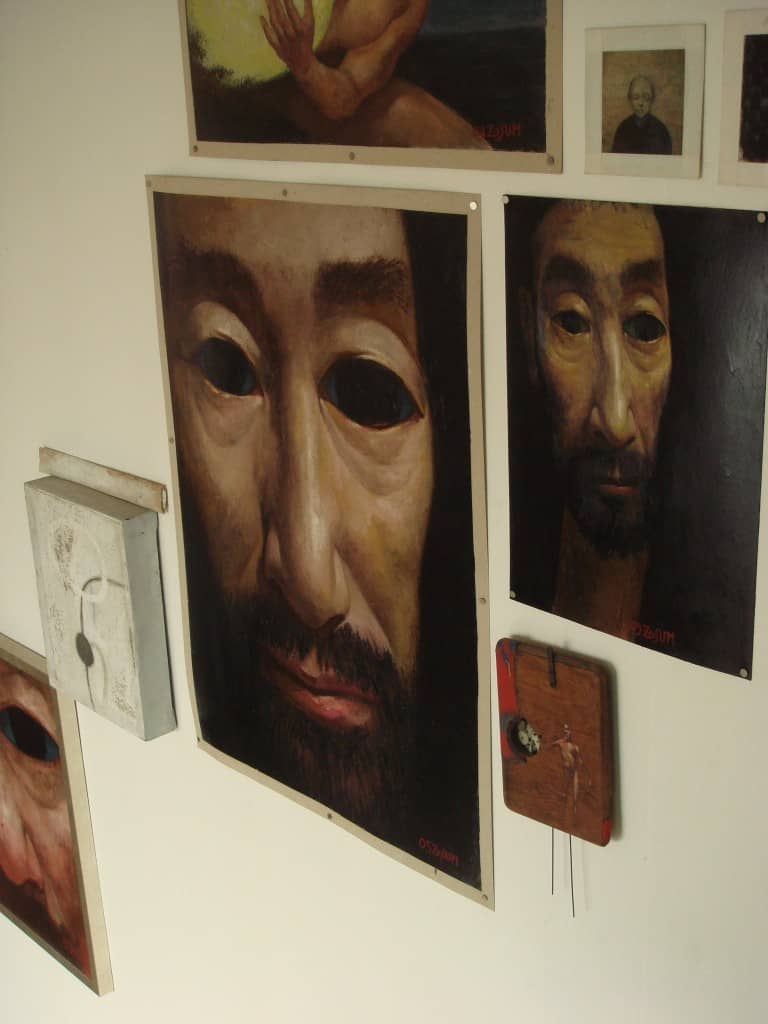 [youtube http://www.youtube.com/watch?v=HR_MeeeL5Kc?wmode=transparent]
He also single handedly runs the SOME Institute, which is an independent post-graduate course specifically for picture-book making, the likes of which there is really no equivalent in the UK. He has brought the most inspiring people working in picture books worldwide to Korea to teach at SOME including Beatrice Alemagna, Martin Salisbury, Chloe Poizat and Katsumi Komagata… he even brought Marshall Arisman (the legendary co-founder of the School of Visual Arts in NY) over to Korea to do a workshop. Below are some images from his workshops and some shots of the end of year show… the standard of the students work is incredible.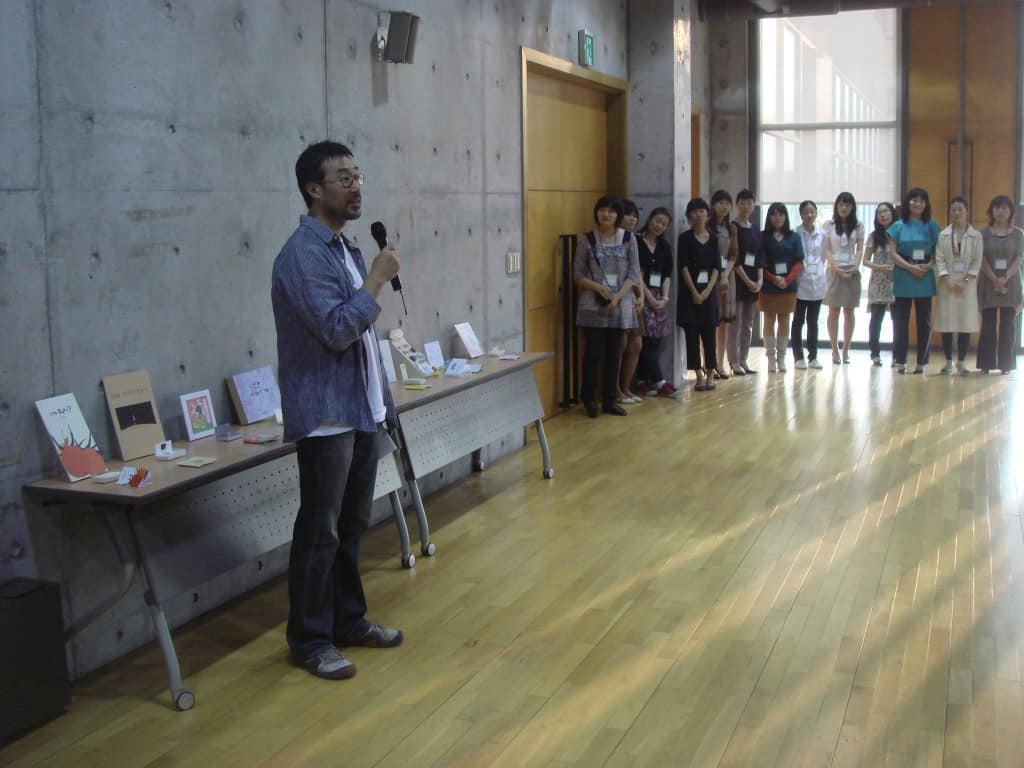 Sunkyung collects picture books from all over the world and his studio is sort of operating as a library to the students. SO many incredible books… better than any bookshop ive ever been in…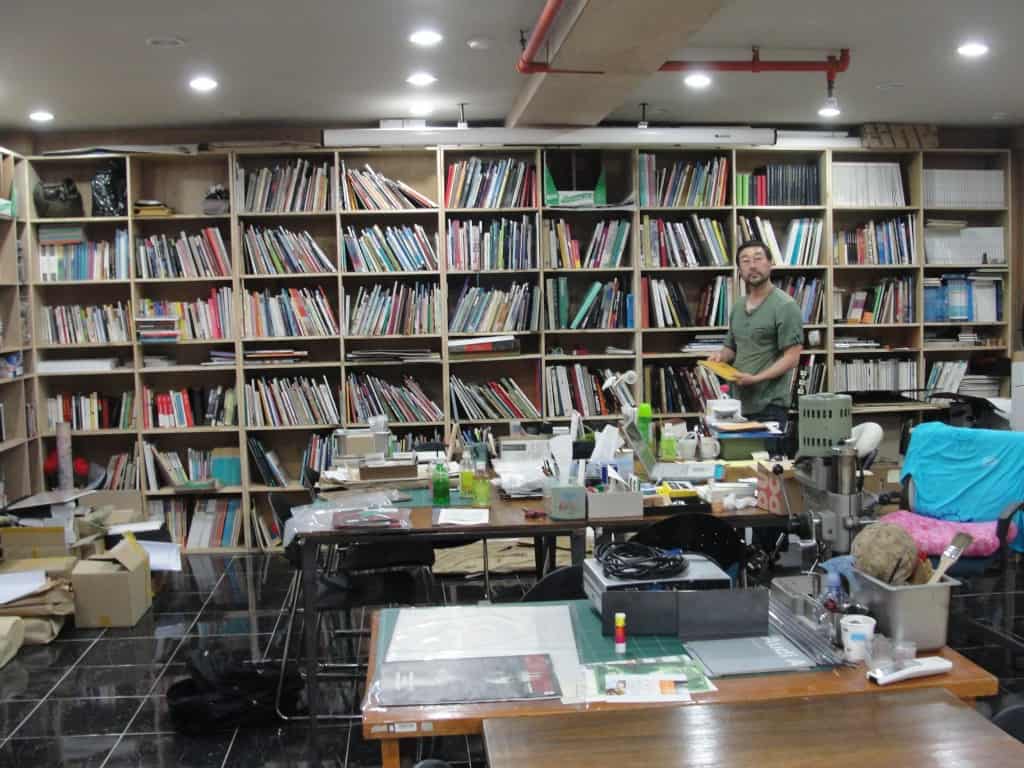 Some of the stories i have heard about him are just completely nuts. He was so inspired by the film the sandman (the film that inspired tim burtons nightmare before christmas) he flew to London looking for the studio that made it. This was the early 90s and pre-internet and he had no address for the studio, only the name 'Batty Berry Mackinnon Productions'. He asked at the heathrow information stand where was 'aardman animation' because he knew they could tell him the address. He went by train to Bristol only to be told that he wasnt allowed into the studio uninvited so he waited around until lunchtime when a few animators came out and told him they were based in manchester. By the next day he arrived at their doorstep, he explained his story and they (understandably) allowed him to work with them for the next 2 months. !!!?!!!! and I thought I was passionate about animation…?
I stayed with Sunkyung in his studio and I worked on my book while he worked on his own book 'Blue Bird' and we spent most evenings in the local restaurant drinking soju. These are some photos of the studio. He worked downstairs and me on the mezzanine. The last photo is a shot at dawn of the scene of me finishing A Bit Lost (….i wasnt to know i would then drag it on for another 2 months ….aagh! )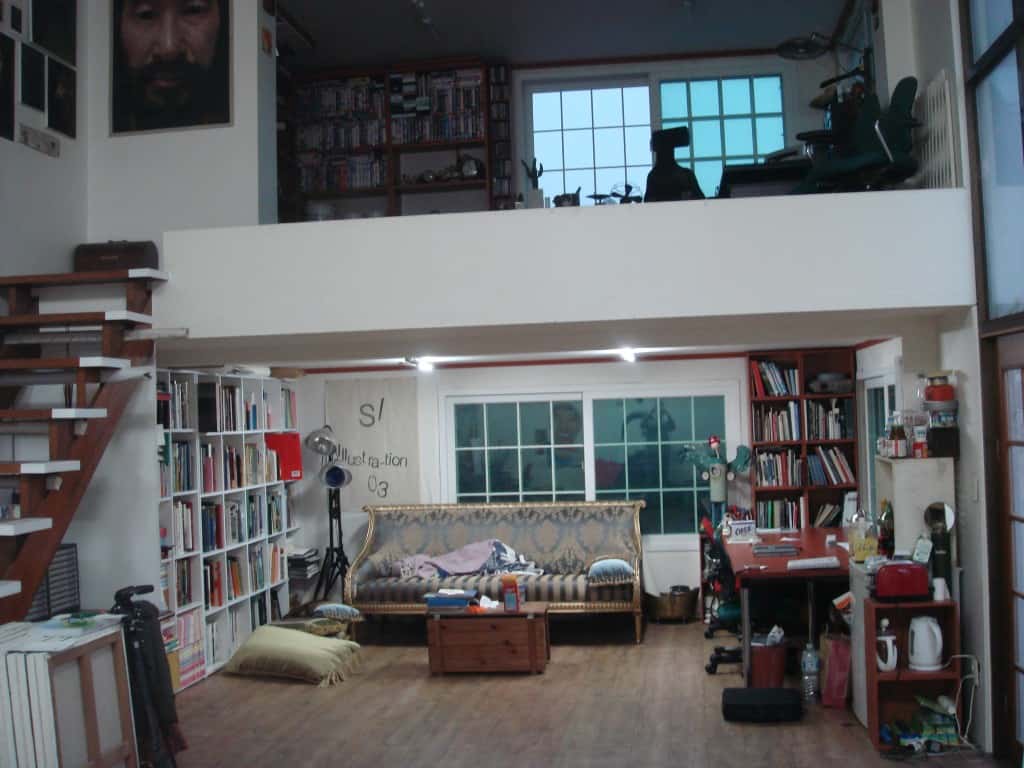 During the time i stayed with Sunkyung he was working on 'Blue Bird'. Its an incredibly beautiful and personal art book based around the death of Sunkyung's mother. 'Blue Bird' (Palang Sae) in Korean means hope. It is a wordless book about the story of a a blue bird who is selflessly looked after by its guardian who is a sow (the pig has a special symbolism in Korea) The mother teaches the bird to fly knowing that she herself cannot fly and that one day the bird will fly away without her. The bird flies away as its mother is left behind in a flock of birds.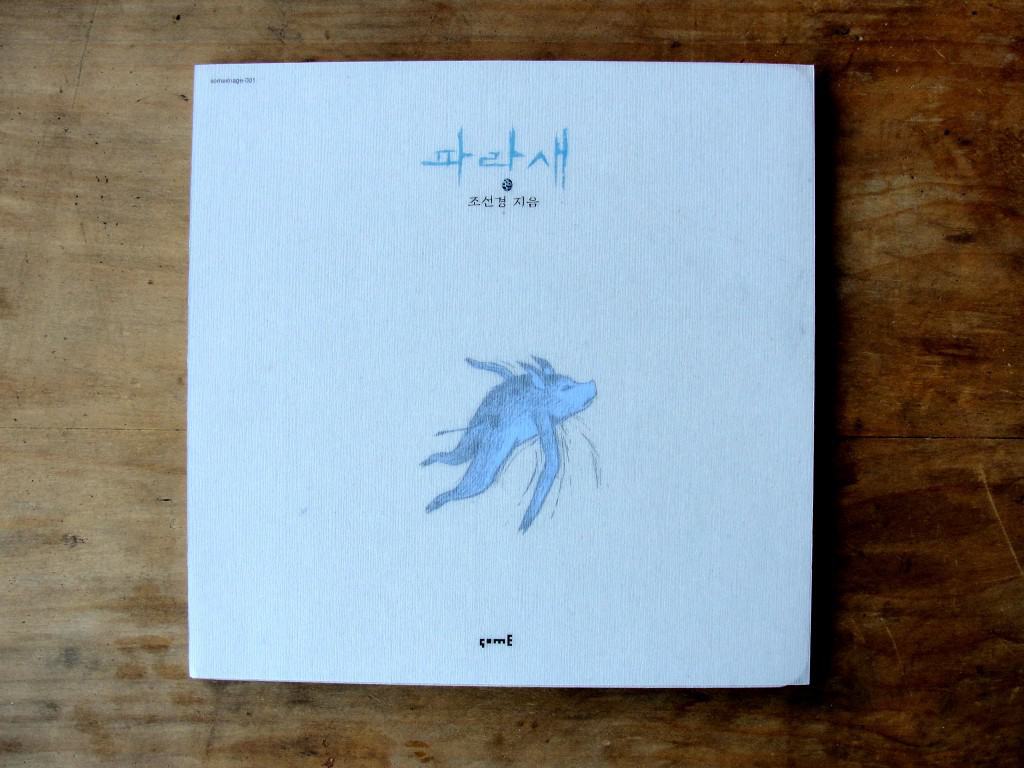 As Sunkyung worked on Blue Bird, I worked on A Bit Lost and in fact we had almost exactly the same publishing date. I came to the end of my stay in Korea I began looking for a quote for my book about 'loss' and we realised the same quote would suit both A Bit Lost and Blue Bird. It dawned on us that we had both spent the last year working beside each other on a story about the loss of a guardian.
We have been close friends since and in fact sunkyung came over to visit me in Nepal and even gave a lecture at Kathmandu University when i was doing a workshop there.
Sunkyung has also set up his own publishing company SOME books (i dont know how he has the time!!!) I HIGHLY recommend visiting SOME picture book website
You can see SOME institute and if you click the top left link you can also see the books they are publishing, their books have been bought by the V&A/ Roma Museum and many other institutions
As you can imagine A Bit Lost owes Sunkyung a huge debt. Im very grateful for all his advice and input. Gansamida!
Have a look at the site for SOME Picturebooks>>>
www.sipicturebook.com